Disposable Utensils and Skewers Buying Guide
If you are a food-related business owner, it is not enough to have bowls, glasses, cups, plates, trays, and lids, you must have disposable utensils, skewers, and cutlery. With the environmental issue that affects more and more people, here is a guide to get you utensils, cutlery, and high quality skewers, which are elegant, practical and good for the environment. Here are the different disposable, recyclable and compostable materials we offer you.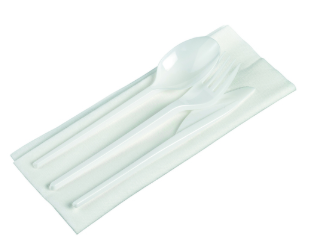 Eco-Friendly Plastic
Although for some people, plastic is not considered a good material for the environment, the utensils offered by Solia are 100% recyclable. Plastic utensils and cutlery can sustain high heat, they are not easily breakable and can be recycled. Plastic utensils can be used for food tasting, takeout restaurants, restaurants, bistros, bakeries, and cafeterias.
Our recommendations :
---
Wood
Wood is not only an elegant and strong material, it is also a great choice for utensils and skewers. High-end and stylish wooden utensils can sustain high heat, they are robust and are 100 % compostable. Disposable wood utensils are perfect for bistros, takeout restaurant, catering, cafeterias, food tasting events, and more!
Our recommendations :
---
Bamboo
Made with collected dried bamboo sheaths, bamboo utensils, cutlery, and skewers are stylish, elegant, and highly practical. They are recyclable, compostable, and 100 % biodegradable. Bamboo can withstand high and low temperatures (24 to 158 degrees Fahrenheit), are extremely durable and robust. You can use bamboo skewers for appetizers and hors d'oeuvres, bamboo tongs for salads and entrees, and more!
Our recommendations :
---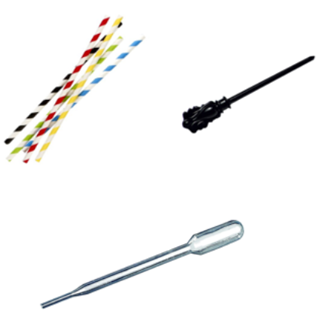 Disposable Catering Accessories and Supplies
Made with disposable, reusable, and recyclable materials, our disposable catering accessories and supplies will add a little extra to your presentations. Whether it is a recyclable plastic pipette to add sauce to entrees and desserts, recyclable paper straws to serve soft drinks, or elegant ornate plastic skewers to serve hors d'oeuvres and appetizers, our collection is guaranteed to be either recyclable, reusable or compostable.
Our recommendations :
---
Reusable Utensils and Cutlery
Reuse, recycle, and compost! Among our selection of disposable, recyclable and compostable utensils, cutlery, and accessories, you can also find highly durable metal utensils and cutlery that can accompany your catering service, restaurant, bistro, and takeout restaurant, and be reused and rewashed over and over again without signs of tarnishing.
Our recommendations :