How bamboo tableware is made?
At Solia, one of our main concerns is to offer elegant and high-end catering tableware made with eco-friendly materials like bamboo. Bamboo is known for its extreme durability, resistance to splinters and its elegant and stylish look. Unlike the paper production process that requires deforestation, bamboo materials are collected without having to cut the trees or harm the plants. Let's take a look at the manufacturing process of bamboo disposable tableware and how it can benefit your business.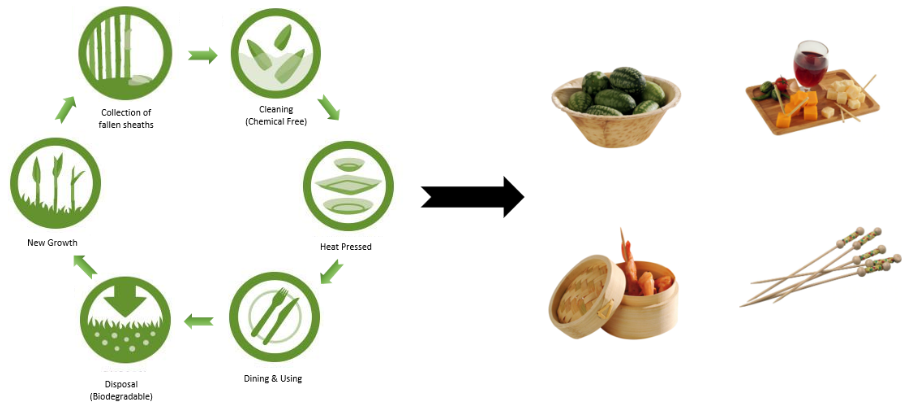 The bamboo sheath naturally falls as part of the tree's growth process. Sheaths are collected right after falling with harm done to the tree whatsoever. This eco-friendly is virtually the same as the palm leaf, requires no chemical for cleaning and is 100 % biodegradable after using it. The The use of bamboo sheaths has little or no impact on the environment and deforestation, which is in fact a material of choice for tableware.
How can disposable bamboo tableware can benefit your business?
Besides being highly cost-effective, bamboo tableware is extremely durable and resistant. They are microwave, refrigerator, and oven safe, making them one of the best choices for businesses who want to go green (restaurant, bakery, bistro, hotel, catering business, etc). At Solia, we are deeply concerned about providing our customers sleek, high-end tableware made with eco-friendly materials, such as bamboo plates, bamboo bowls, bamboo skewers, bamboo cutlery and more. When you are or your customers are done with it, you can put it the compost bin without hesitation.
You can use the bamboo bowls and bamboo cones for serving cold and hot entrées, our bamboo trays and skewers to offer delicious appetizers to your guests and stylish bamboo plates to serve small meals at a cooking event.
Questions?
If you need more information about our disposable bamboo tableware, our other eco-friendly materials, or our prices, don't hesitate to contact us by phone or email. Our team will be happy to answer all your questions!