How Palm Leaf Tableware is made
Nowadays, more and more companies and businesses take into consideration the impact that their waste have on the environment. For this reason, using disposable and compostable materials for tableware and disposable catering supplies has become increasingly popular. Among them is a material that is not as popular as it should be : palm leaf. Disposable catering products like palm leaf plates and palm leaf bowls are created to be eco-friendly while being classy, stylish and highly durable. Let's take a look at the manufacturing process of palm leaf tableware and how it could benefit your business on many levels.
How did palm leaf ended up as dinnerware material?
When it comes to disposable tableware materials, many businesses and companies are unaware that palm leaf can be a good choice. Mostly located in desert or tropical regions, palm trees keep their leaves all year long. They naturally shed their leaves; shedding can happen as often as every few weeks.
Then, palm leaves are collected then washed in water (non-chemical process), along with the application of heat to remove any traces of dirt and other debris. After cleaning, the leaves are left to dry. When the palm leaves are ready, they are stretched and flattened by hand. Heated presses are utilized to give them the desired shaped. Then, all bowls, plates, and trays are once again left to dry
Apart from manual labor, no other efforts from machinery or resource consumption are required, leaving instead a process with minimal environmental impact. /It is important to mention that the palm leaves' collection is an eco-friendly process in many ways. Unlike the forestation work needed in the paper production, palm leaf collection leaves palm trees untouched. Apart from the manual labor required, there are no efforts coming from machinery or resource consumptions, therefore leaving a process with little to no environmental impact.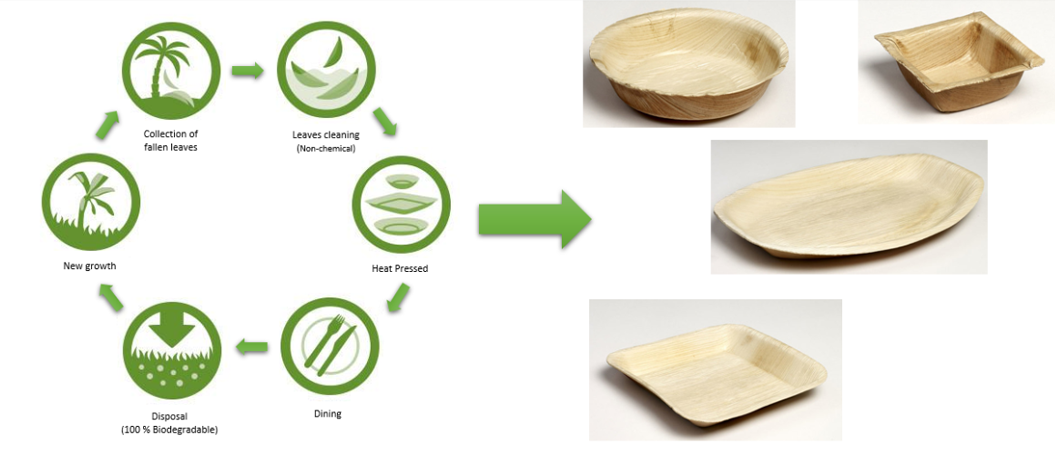 How can your business benefit from using palm leaf dinnerware?
As palm plates are extremely light, you want ask yourself if they can support any amount of food other than a salad. Palm dinnerware fulfill the same function as standard paper and plastic plates with an increased durability and they are 100 % biodegradable. They will be hard to puncture or rip, giving them an advantage over materials such as styrofoam.
Also, disposable palm leaf catering tableware is microwavable and can be used to heat leftovers or frozen meals. Even better, you can even use them in the oven, since they can withstand temperatures up to 350 degrees Fahrenheit for up to 45 minutes. You can also use palm leaf dinnerware to handle and serve cold food like gelato and ice cream. These plates are moisture-resistant, so they will never get soggy or deformed. Finally, you don't have to worry about your food tasting funny with palm leaf tableware; they will not add to or change the taste of any food.
At Solia, we are deeply concerned about our palm leaf tableware being stylish and elegant. This is why the heat molding process allows them to be made in a variety of shapes, depths and sizes to best serves your needs. The wood-like aspect of all your palm leaf tableware adds a richness to any table. With the variety offered in our palm leaf collection, you can add palm leaf tableware is the best way to add sustainable products to your catering business, bakery, restaurant, hotel room service, parties, and events.
Palm Leaf Dinnerware and Catering Supplies : the wise choice for the environment
Whether you are a restaurant owner looking for a way to reduce waste, or a catering business looking for disposable and sustainable tableware, palm leaf dinnerware is one of most practical and eco-friendly option. Their durability and polyvalence allow them to handle any food or cold for any occasion. Solia dedicates itself to offer our customers with premium quality palm leaf products that can be used in restaurants, hotels, bakeries, bistros, events and parties.
Questions?
If you have more questions about palm leaf manufacturing process or about our palm leaf tableware collection, we invite you to contact us by phone or email! Our team will be happy to provide you with all the information you need!