If you are looking to serve your meals, takeout or catering products in a eco-friendly, cost-effective way, sugarcane is a trendy, disposable and 100 % compostable material that will fulfill all your needs.
What is sugarcane pulp?
Also called bagasse, sugarcane pulp is the sugarcane fiber waste left after juice extraction. Bagasse is sugarcane fiber waste left after juice extraction. Sugarcane is also a tree-free renewable resource that is now used to manufacture eco-friendly dinnerware and catering tableware.
What are the benefits of sugarcane pulp?
By introducing sugarcane dinnerware & catering tableware, you contribute to reduce pollution and energy consumption. It takes less than 90 days to biodegrade in nature. Sugarcane dinnerware products are highly durable and will not deteriorate when handling oily, cold or hot food. Also, they are microwave safe, making them the ideal option for storing and reheating dishes. Finally, all sugarcane catering tableware is made to withstand various temperatures, from 10°F to 428°F.
At Solia, our team works continuously to create elegant sugarcane dinnerware and catering tableware with this sumptuous white color, to make it stylish. In this way, it can fit with any event or purpose, like a catering event, wedding, party, reception, food presentation, food tasting and more!
Sugarcane's eco-friendly production process:
Made from a byproduct of sugarcane plant stalks
Pressed in shape with intense heat and pressure to create the desired shape
Renewable and sustainable resource
100 % Completely compostable
All our sugarcane products are easily disposal. You can throw them out with food waste and other compostables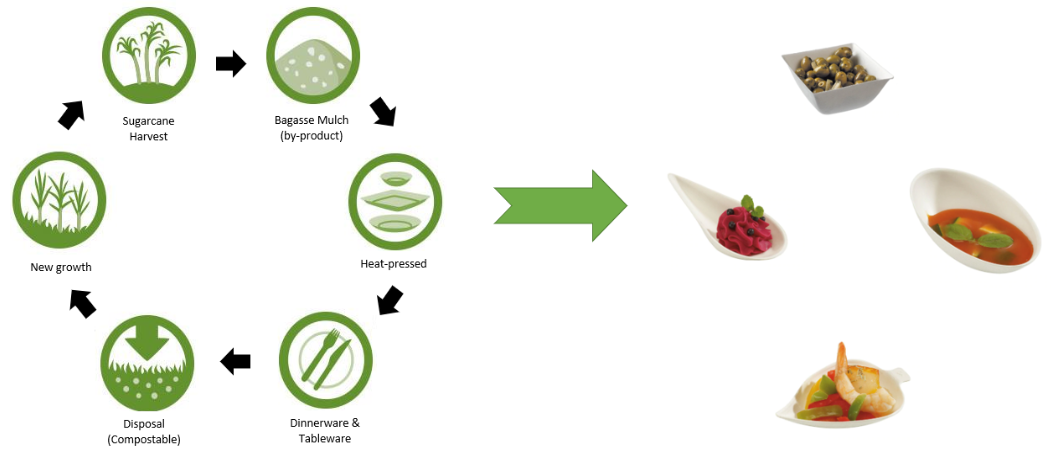 Our selection of sugarcane dinnerware & tableware inventory contains more than 50 elements, that includes bowls, plates, takeout containers, catering spoons and more! Here's an overview of our sugarcane dinnerware & tableware collection!
Sugarcane Bowls:
Sugarcane Plates:
Sugarcane Takeout Containers :
Questions?
If you have any questions about our sugarcane dinnerware and catering tableware collection, or if you wish to learn more about our eco-friendly tableware inventory, we invite you to contact us. Our team will be pleased to help you find what you need and to answer all you questions!